Sold in sleeve of 10 capsules at a price of 15,90 лв..
Sold in sleeve of 10 capsules at a price of 15,90 лв..
A luxurious flavoured coffee wins with the warming caramel flavour.
Aromatic notes
Sweet and velvety
Cup size
Mug 230ml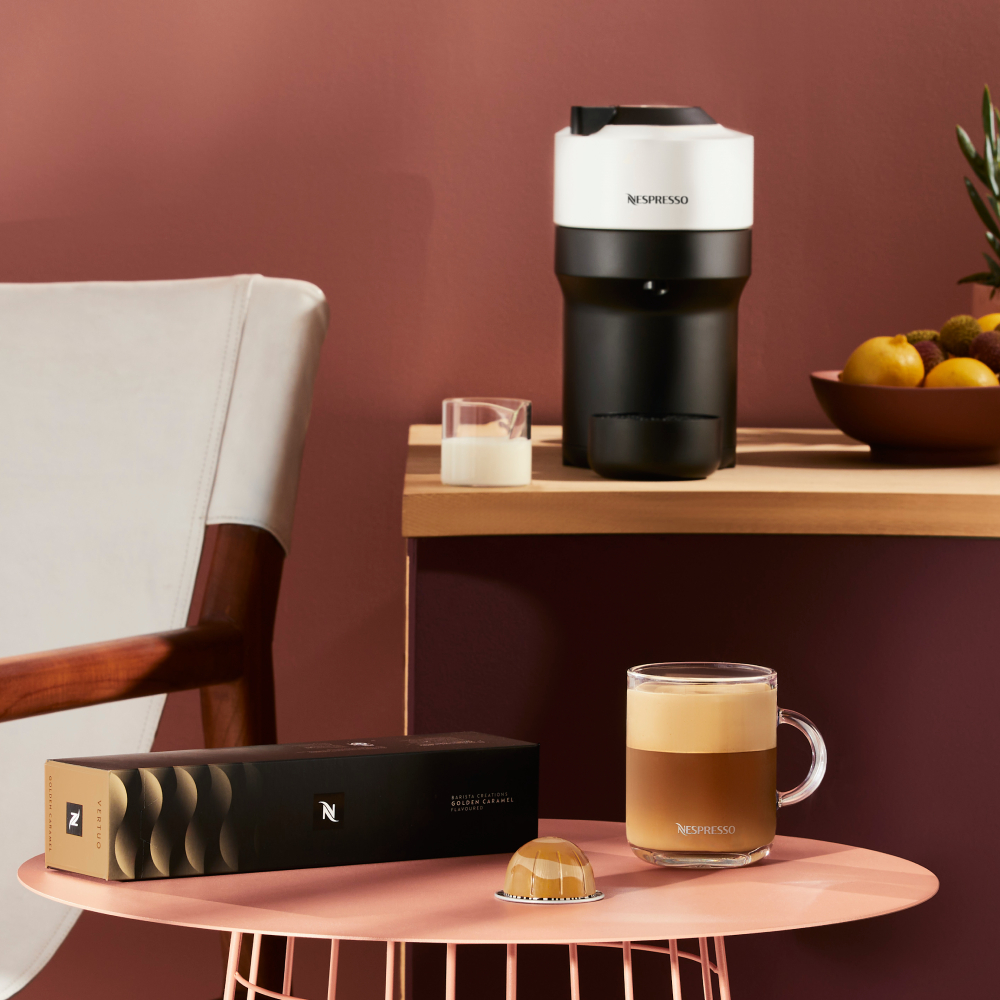 There's something so comforting about the taste of caramel like the sweet memory of childhood friends Barista Creations GOLDEN CARAMEL is a caramel flavoured coffee but it all starts with the base coffee blend of Latin American and African Arabicas. We split roast the coffees in this blend it develops the beans to deliver an incredibly rounded coffee with a soft biscuit note Into this harmony comes to the caramel flavour, adding a buttery biscuit note that'll take you back to your childhood days.
DESCRIPTION
The warming caramel flavour strikes a luxurious note with the Arabica base coffee, bringing buttery biscuit and delicate nutty notes to your palate.
ROASTING PROCESS
The Arabica coffees in Barista Creations GOLDEN CARAMEL are split roasted. The Brazilian beans are roasted medium dark and quickly to develop their sweetness. The second split gives this Vertuo flavoured coffee its velvety texture. We add the caramel flavour in after roasting.
AROMATIC PROFILE
Barista Creations GOLDEN CARAMEL is a little luxury of beautiful complexity. You're sure to taste the classic caramel aroma dancing through the cup, but can you also pick up the delicate notes of coconut, almond and biscuit in this delicious Vertuo flavoured coffee?
MILK DESCRIPTION
With a dash of milk, Barista Creations GOLDEN CARAMEL becomes an irresistible afternoon treat. When you drink this Vertuo flavoured coffee as a latte, it brings out the notes of vanilla and coconut and might remind you of a soft caramel candy from childhood.
INGREDIENTS AND ALLERGENS
10 Golden Caramel roast and ground coffee capsules for the Nespresso Vertuo system.
ORIGIN:
Brazil – Ethiopia - Other
SPECIES: Arabica
MADE IN SWITZERLAND