Sold in sleeve of 10 capsules at a price of 15,90 лв..
Sold in sleeve of 10 capsules at a price of 15,90 лв..
Our sweetest flavoured coffee with the classic vanilla flavour giving the base blend a silky smooth and creamy texture.
Aromatic notes
Sweet and velvety
Cup size
Mug 230ml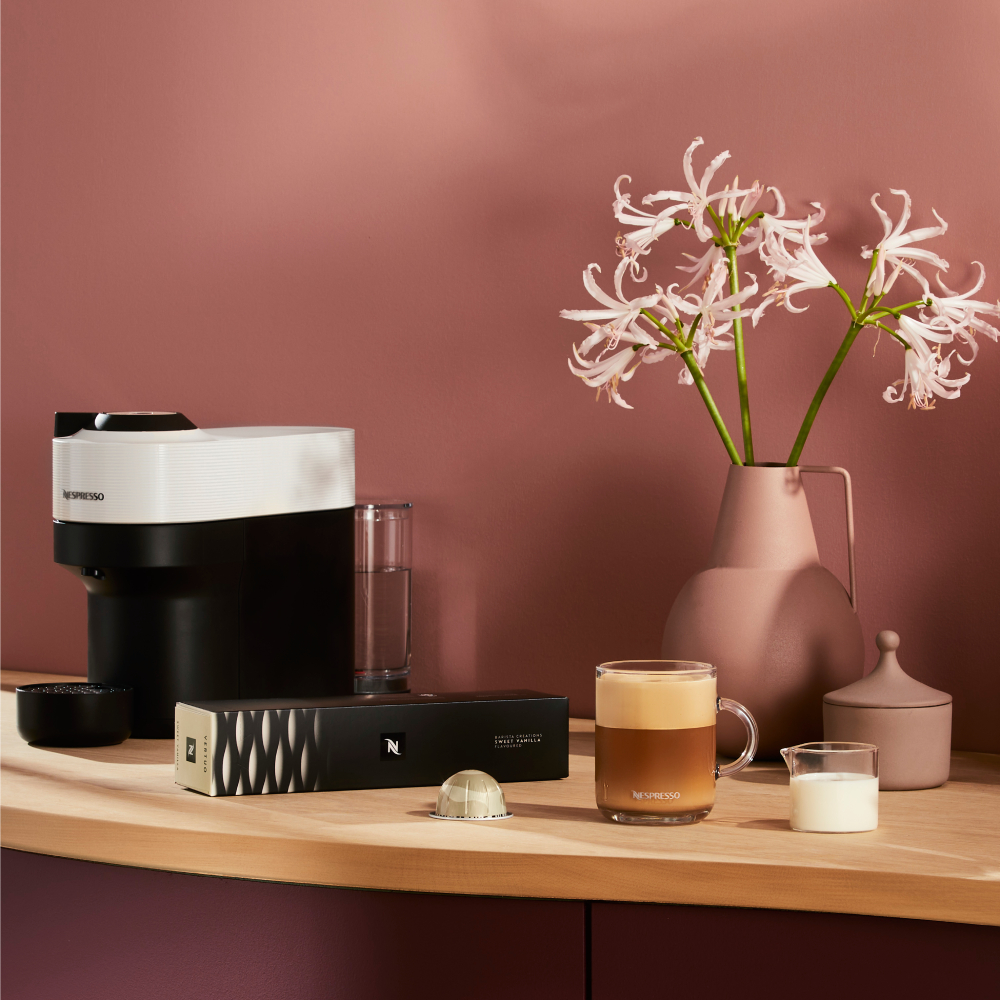 Vanilla flavour easing into round, smooth Latin American and African Arabicas that's Barista Creations SWEET VANILLA. A medium dark, quick roast of Brazilian beans brings roundness and sweetness, whilst Ethiopian coffee in the second split brings delicate aromatics to the blend and adds a certain finesse. We split roast the coffees in this blend it develops the beans to deliver an incredibly rounded coffee with a soft biscuit note. When we add in the creamy vanilla flavour it creates a silky, smooth textured coffee this one's nice as pie.
DESCRIPTION
Revel in the classic creamy vanilla flavour as it brings silky almond and butter biscuit notes to the smooth Arabicas of the base blend.
ROASTING PROCESS
The Arabica coffees in Barista Creations SWEET VANILLA are split roasted. The Brazilian beans are roasted medium dark and quickly to develop their sweetness. The second split gives this Vertuo flavoured coffee its velvety texture. We add the vanilla flavour after roasting.
AROMATIC PROFILE
Barista Creations SWEET VANILLA is a sweet treat with its classic vanilla note in harmony with subtle hints of almond and butter biscuit laced through this smooth and velvety flavoured coffee.
MILK DESCRIPTION
Go ahead and try this flavoured coffee with a dash of milk and relish the caramel and buttery vanilla biscuit notes that unfold in a Barista Creations SWEET VANILLA Latte. Looking for a delicious iced vanilla latte? Why not drop in a few ice cubes for ice cream like experience?
INGREDIENTS AND ALLERGENS
10 Sweet Vanilla capsules of roast and ground coffee for the Nespresso Vertuo system.
ORIGIN:
Brazil – Ethiopia - Other
SPECIES: Arabica
MADE IN SWITZERLAND