Item code:
7213.80
Isbn:
Карамел и препечени нотки
Sold in sleeve of 10 capsules at a price of 10,90 лв..
Sold in sleeve of 10 capsules at a price of 10,90 лв..
A glowing blend of Latin American Arabicas and a touch of Robusta bring cereal and caramel notes in bold balance.
Aromatic notes
Caramel & Roasted
Cup size
Espresso 40ml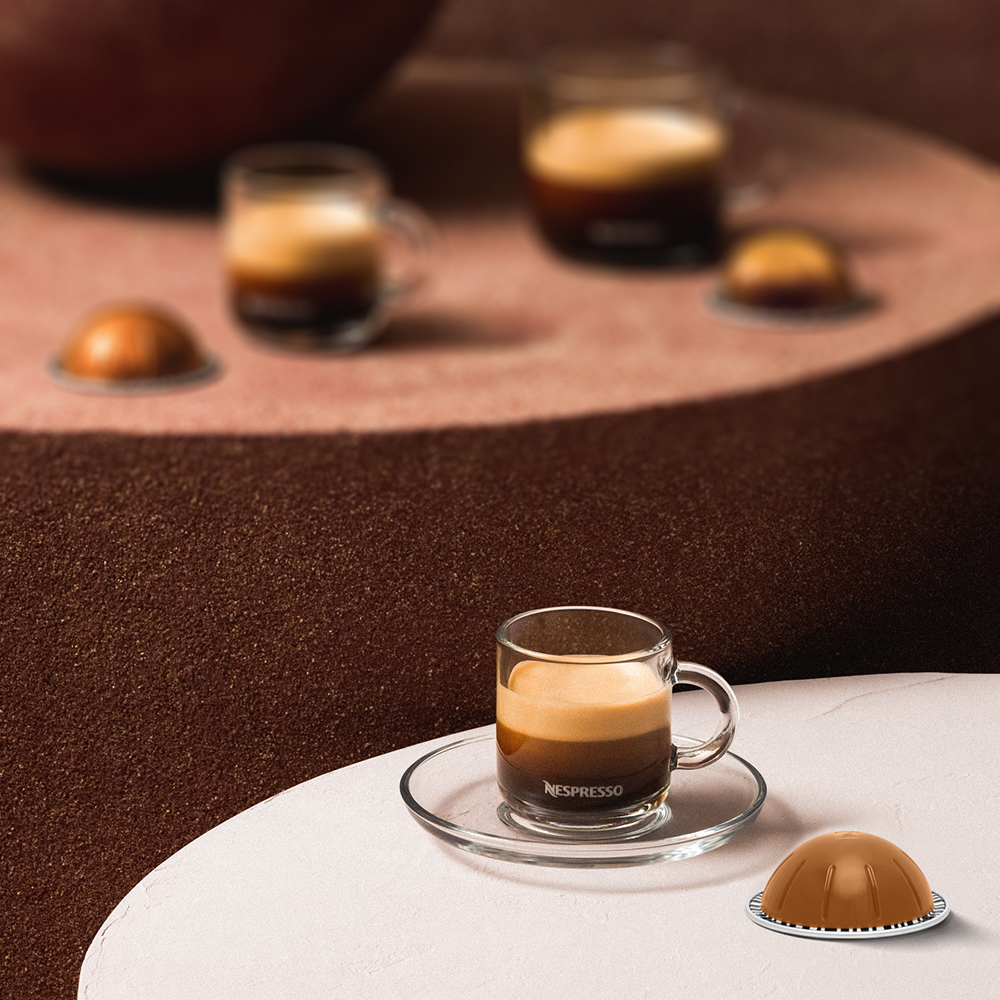 What makes Orafio glow in your cup is a combination of masterful blending, bringing together both high quality Arabica and Robusta coffees from a diversity of origins, and skilful split roasting Sounds a bit like the level of craftsmanship that goes into this coffee's namesake, doesn't it? The Italians among us will recognize the link to their word for goldsmith. We crafted Orafio with a light and long roasted Ugandan Robusta. That roast keeps this coffee's typical body and bitterness in check while still delivering the liquorice and spice notes that are hallmarks of this origin's naturally processed Robusta A short dark roast of the Brazilian and Costa Rican Arabicas balances the blend Orafio is a complex coffee carrying a delicious caramel note and lingering with a long finish Its beautiful roasted notes graced by a hint of acidity make this a luxurious coffee worth its weight in gold.
DESCRIPTION
Warm cereal and caramel notes flow in an Arabica blend touched with Robusta It's light bodied, low in bitterness, and graced with a hint of acidity.
ROASTING PROCESS
A split roast with high Robusta content that still manages to feel mild and light In the first batch we roast all arabicas dark and short, while the high quality Robustas in the second split get a lighter and longer roast. The preserved Robusta notes add complexity to this coffee without adding any harshness.
AROMATIC PROFILE
Surprising liquorice brown caramel and spicy notes, finished by a pleasant and long lasting bitter aftertaste.
MILK DESCRIPTION
In a Latte Macchiato recipe, Orafio's coffee character becomes softened, giving way to sweet caramel and milky notes.
INGREDIENTS AND ALLERGENS
10 Orafio roast and ground coffee capsules for the Nespresso Vertuo system.
ORIGIN:
Brazil – Costa Rica – Other (Uganda)
SPECIES: Arabica - Robusta
MADE IN SWITZERLAND