An Authentic Coffee Experience
Discover Nespresso, where quality coffee is delivered at the touch of a button. Savor our coffee varieties from three gourmet aromatic families: intense, balanced and fruity / flowery.
Intenzitet
0
1
2
3
4
5
6
7
8
9
10
11
12
13
Arome
0
Ok show Access Role
Do not have access to the action
Save Access Role
Edit Status Access Role
Print Access Role
Administration
Admin
Attributes
Attribute List XML
New attribute
Discover ranges of Nespresso coffees
Nespresso only selects the best beans from the world's finest crops, known as "Gourmet Coffees", as they offer the most sophisticated aromas.

Ispirazione Italiana
These intense multi-origin blends provide a powerful and strong coffee experience. Enjoy in a 25ml Ristretto or 40ml Espresso cup.


Barista Creations
Inspired by the creativity and expertise of world's finest baristas, these coffees are designed to make it easy for you to recreate the full spread of coffee recipes at home.


World Explorations
World Explorations is an invitation to experience the different ways coffee is appreciated around the globe and explore the uniqueness of both traditional and upcoming coffee cultures through your Nespresso cup.

Master Origins
A range of coffees mastered by craftsmen and inspired by their land, associating one specific process with each of them for distinctive and memorable coffee experiences.

Espresso
Explore these smooth blends that are satisfying and surprisingly balanced. It's like meeting with an old friend - but in the size of an Espresso.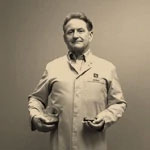 For each of their coffees, Nespresso select only some of the best beans in the world.
NESPRESSO QUALITY SPECIALIST, Green Coffee
The Excellence of a Coffee
Our passion for perfection is truly reflected in our unsurpassed coffee quality.
We leave nothing to chance. Quality is rigorously managed at every step of the Nespresso value chain, from the sustainable sourcing of highest quality coffee from the world's most well-renowned coffee growing regions to the distribution to consumers worldwide.
Our range of exceptional blends and pure, single origin coffee is specially developed to suit taste preference.
Cup Sizes
Each Nespresso coffee is developed in a given cup size to deliver an optimal taste and texture.
Over-extraction: cup size is critical as too much water through too few grounds results in unbalanced flavour extraction.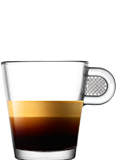 Ristretto
25 ml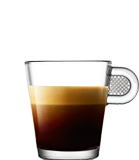 Espresso
40 ml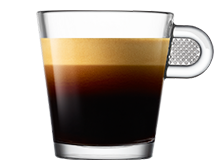 Lungo
110 ml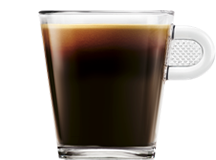 Americano
150 ml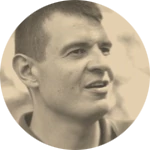 In our AAA Sustainable Quality Program, we're learning together with our farmers how to improve their farms. At the end of the day, it's the farmers who best understand their coffee trees.
JUAN DIEGO, Nespresso AAA manager in Costa Rica
The Coffee Intensity
Intensity results from the combination of:

Body
Coffee fullness or weight in the mouth. A coffee with body is thick and dense, whereas a light-bodied coffee is perceived as watery, fluid.

Bitterness
Think of dark chocolate, baking cocoa, aspirin, chicory. Coffee is bitter.

Roastiness
Perception of a coffee roast flavor, independent of the roast level.
At Nespresso, we define intensity as being a combination of roastiness, body and bitterness, not caffeine content.
Aromatic Notes
Dominant aromatic notes define the aromatic profile, the character of the Nespresso coffee, regardless of its intensity.
Aromatic notes are clustered into 3 main families: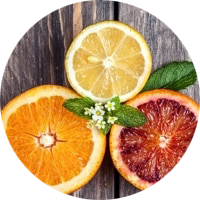 Fruity
Fruity winy, Flowery, Citrus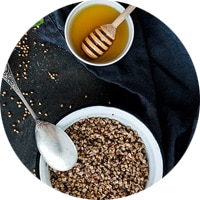 Balanced
Biscuits, Cereals, Roasted, Honey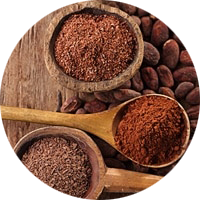 Intense
Spicy, Malted, Woody, Cocoa, Intensely roasted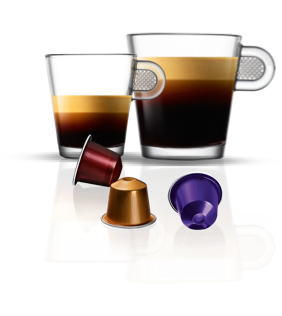 Find your favourites Nespresso Coffees
and enjoy the ultimate coffee experience
Nespresso's decaffeination process
Our passion for perfection is truly reflected in our unsurpassed coffee quality.
Nespresso's expertise in blending and roasting allows to recreate the same character and aromas of your favorite Nespresso coffee, in a decaffeinated version.
Nespresso has chosen decaffeination methods that use only natural ingredients and respect the environment and the coffee bean true nature.